Who we are and what we do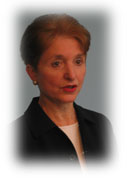 Ellen Estes provides expert advice and counsel in the area of major and planned giving to organizations nationwide. No matter what segment of the nonprofit world you serve - the arts, education, religion, health care, social services, or other endeavors - Ellen Estes can help you find the solutions to your organization's fundraising problems - and raise more funds for your organization.



Consulting
For more than 25 years clients have come to rely on Ellen's expertise in major and planned giving to increase their fund raising results. Some of her consulting services include
Personal, hands-on consulting with each client - tailored to that client's specific needs, goals, and objectives
Training - Ellen is known nationwide as one of the best teachers in the field
Marketing - Ellen can provide objectivity and fresh ideas for building and marketing your program
Reliability - Ellen is always there - personally - when you have a question or need help

Planned Giving - Plain and Simple™ Seminars
Our one-day, comprehensive seminar will give you everything you need to know to develop a successful planned giving program
What planned giving is - and why it is especially important in today's environment
How to identify your best prospects for planned gifts
How to market planned gifts to your donors and prospects
What you can do as soon as you get back to the office to start raising more gifts
We hope that you will join our popular one-day seminar, Planned Giving - Plain and Simple™ You will find it a day well spent. [More info]
Charitable Chords
The duo provides musical entertainment at Annual Meetings, Board Meetings, and other special gatherings. [More info]

About Ellen Estes
Ellen G. Estes is a graduate of the Yale Law School, and practiced law as an estate planning and tax attorney with the law firm of Shearman & Sterling in New York City. She then became Legal Counsel to the Campaign for Yale, and later served as the first Director of Development of Connecticut's acclaimed Long Wharf Theatre. There she planned, organized and implemented its successful development program. Ellen then founded Estes Associates to provide consulting services on major and planned gift matters to non-profit organizations nation-wide.

A prominent lecturer, Ellen is a popular speaker at professional conferences around the country. Her speaking engagements have included the Council for the Advancement and Support of Education (CASE), the Association of Fund Raising Professionals (AFP), the Association of Healthcare Philanthropy (AHP), the Council on Foundations, the American Council on Gift Annuities (ACGA), and the Partnership for Philanthropic Planning (formerly the National Committee on Planned Giving). She also conducted statewide training sessions for nonprofits in the LEAVE A LEGACY® CONNECTICUT program, and currently provides planned giving seminars and training sessions for staff, volunteers, and donors at nonprofit organizations around the country. Ellen is also widely recognized for her no-nonsense, basic seminars, "Planned Giving - Plain and Simple™", which are presented in the spring each year. [more info]

For seven years she wrote the Planned Giving column for Contributions, the bi-monthly newspaper for nonprofit professionals. Her articles have also appeared in many other national professional publications including the Journal of Gift Planning, and Planned Giving Today.

Ellen was awarded the prestigious David M. Donaldson Distinguished Service Award by the Planned Giving Group of New England in 2008, and the Elizabeth Keitel Award from the Planned Giving Group of Connecticut for outstanding service to the planned giving profession. Ellen and her husband, Frank, received the Outstanding Fundraising Professionals award from the Connecticut Chapters of AFP in 2012.

A ballerina in her youth, Ellen performed professionally with the Philadelphia Ballet Company. Since then she has continued her involvement in music and dance, and, with her husband, Frank, formed a group called The Charitable Chords - which performs musical parodies about fund raising and charitable giving at professional conferences and at client meetings and events around the country.